Hanley Investment Group Arranges Pre-Sale of New Construction 7-Eleven for 4.13% Cap Rate in Los Angeles County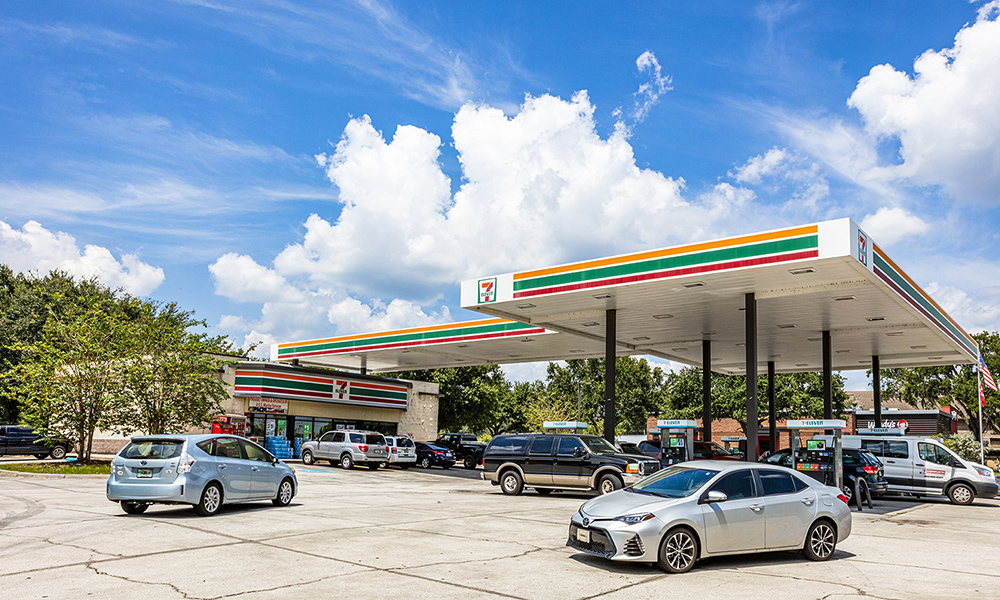 Photo of 7-Eleven in Lakeland, Florida, which Hanley Investment Group will soon start marketing for sale for $4,656,000, representing a 5.25% cap rate.
BALDWIN PARK, Calif. – Hanley Investment Group Real Estate Advisors, a nationally recognized real estate brokerage and advisory firm specializing in retail property sales, announced today that the firm has arranged the pre-sale of a new-construction, single-tenant 7-Eleven in Baldwin Park, California. The sale price was $4 million for the triple-net absolute ground lease, representing a record-low cap rate of 4.13%, the lowest cap rate in California within the last 12 months and $1,375 per square foot. This is McChesney's 25th 7-Eleven investment sold or on the market in 32 months and McChesney's 35th convenience store investment sold or on the market in this same time period.
Hanley Investment Group Executive Vice President Jeremy McChesney and Associate Andrew Sprowl represented the seller, a private investor from Westport, Connecticut. The buyer, a private investor from Beverly Hills, California, was represented by Elias Donay of Universal Capital Investment, also located in Beverly Hills.
The new 2,910-square-foot 7-Eleven store and fuel station, which is expected to open later this year, sits on 0.85 acres and is located at 13853 Garvey Avenue at the intersection of Garvey Avenue and Feather Avenue. The property is visible from Interstate 10 with daily traffic counts exceeding 220,000 and situated adjacent to LA Fitness and across the street from Sierra Vista High School (2,300 students). Other significant traffic generators include UPS Customer Center and Distribution Hub and Kaiser Permanente Medical Center. Half a million people reside within a five-mile trade area with a total retail demand of $5.6 billion and retail sales of $800 million, according to McChesney.
"We successfully executed a pre-construction sales strategy and secured an all-cash, 1031 exchange buyer through a broker relationship and closed escrow at 97% of the asking price and three months before 7-Eleven's rent commencement date," said McChesney. "There was tremendous buyer interest in this property due to the freeway-visible, dense, infill location in the Los Angeles area."
McChesney continues, "7-Eleven is one of the most highly sought-after national tenants in today's market due to their credit combined with typically occupying fundamental 'A' locations that investors feel safe and secure owning long-term."
McChesney has completed the sale of nearly 40 7-Eleven properties in over 48 months and has additional 7-Eleven investment properties listed for sale or in escrow located throughout the U.S. including a new construction 7-Eleven (with fuel station) in Bakersfield, California listed for sale for $6,125,000 as well as one in Lakeland, Florida for $4,656,000, representing a 5.25% cap rate, which will hit the market soon.
About Hanley Investment Group
Hanley Investment Group Real Estate Advisors is a retail investment advisory firm with a $6+ billion transaction track record nationwide, who works closely with individual investors, lending institutions, developers, and institutional property owners in every facet of the transaction to ensure that the highest value is achieved.
For more information, visit www.hanleyinvestment.com.
Media Contact
Company Name: Hanley Investment Group Real Estate Advisors
Contact Person: Jeremy McChesney, Executive Vice President
Email: Send Email
Phone: 949.585.7671
Address:3500 E. Coast Highway, Suite 100
City: Corona del Mar
State: California
Country: United States
Website: http://www.hanleyinvestment.com/