Landzo Announces US Launch of Robot Toy Companion Quincy That Helps Children Learn to Spell, Count & Draw
Encouraging kids to be creative, enjoy learning and stay ahead of the learning curve in diverse areas can be helped with Quincy the Robot Toy Companion from Landzo.
December 6, 2019 – It's no secret that children who develop an early appreciation, love and enjoyment of the STEM/STEAM fields (Science, Tech, Engineering, Math) / (Science, Tech, Engineering, Arts, Math) can be a key foundation for later success. China-based startup Landzo understand this well, delivering a focus in bringing out kid's products that encourage STEM/STEAM development. In exciting news in this area, Landzo recently announced they are expanding to the US market with the launch of their innovative robot toy companion Quincy that helps children learn to spell, count and draw. The excitement surrounding the new release is high and rising.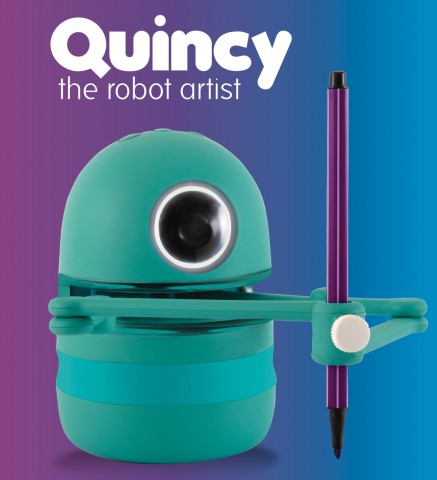 "We're proud to introduce Quincy, the Robot Artist," commented a spokesperson from Landzo. "Kids can simply scan a picture card and watch the robot artist teach them how to draw step by step. Quincy also loves to spell words and play simple math games. It's mesmerizing to see the children totally engaged with their new companion, interact with it and actually learn to draw, spell and count!"
Setting up and using Quincy is quick and easy. Watching the device operate completely entertains most children and can transform how they view drawing, spelling, and counting. Quincy has been designed for kids age 3 and up, and has true lasting value they can grow into. Many are calling it a wonderful holiday gift.
The early feedback for Quincy has been positive across the board.
Christine S., from Boston, recently said in a five-star review, "Quincy has become our son's favorite toy. It is amazing that it is something educational and fun at the same time. Totally a step into the future and fully recommended!"
For more information be sure to visit www.landzo.com.
About Landzo
Nanjing Landzo Technology Co., Ltd. is a high-tech enterprise which integrates research & development, production, sales and training with an international vision. It is one of the leaders in the field of STEAM education in China, focusing on intelligent learning hardware modules, STEAM education products and maker space content development.
Media Contact
Company Name: Landzo
Contact Person: Anouk De La Tore
Email: Send Email
Phone: 310 619 9449
Country: United States
Website: www.landzo.com