The Iron Fox Podcast: Helping Entrepreneurs Be Prepared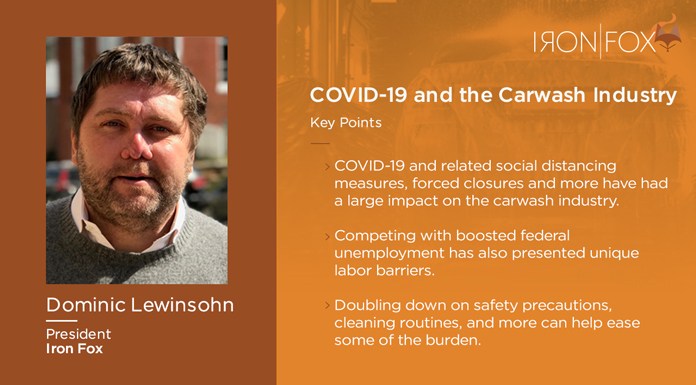 The Iron Fox Podcast has been a helpful tool for entrepreneurs currently operating or thinking of investing in the car wash industry since beginning in 2019. The podcast features guests from Iron Fox, LLC. and other members of the car washing community, bringing news and current events around the industry. Like many other sectors, the car wash industry has been impacted in a large way due to the government shutdown during the COVID-19 outbreak.
In the latest episode of the Iron Fox Podcast, Iron Fox President Dominic Lewinsohn sat down to discuss exactly how COVID-19 has impacted the industry, and what steps wash owners can be taking to ensure they are prepared going forward.
To start off the podcast, Lewinsohn discussed the financial impact that the shutdown has had on the car wash industry, and how unemployment payments have affected the ability of wash owners to maintain their staff levels. Next up was the safety measures wash properties should be taking if they remain open and the government programs that have distributed funds to businesses around the country. Both loans and grants were covered however regarding the loan process, Lewinsohn stressed the importance of accurate record keeping to increase the possibility of receiving a grant rather than a loan:
"If you can turn those loans into grants, it will really help out the car wash industry during this two month period. It is very important that you keep good records, that you are scheduling your full time employees those 30 hours per week, really great record keeping so that you are able to turn that loan into a grant."
The discussion then turned to additional services that can help a wash property stay open and generate additional revenue despite possibly seeing less vehicles go through the wash on a day to day basis. Lewinsohn suggested adding a disinfecting spray for interior services, as well as an OZONE machine detail that while taking longer, would sanitize the vehicle to an even greater degree. Iron Fox has determined that car washing businesses are down around 50% in overall sales since the shutdown began, but Lewinsohn stated unlimited plans play a large part in how owners have been able to keep that number as high as it is:
"If you have unlimited plans, you do have that continued income with those people coming and paying monthly. An example is, auto dealers and mechanics are reporting they are down 65%, so car washes are able to stay a little bit ahead of that by offering the unlimited plans."
For those washes that have been shut down, Lewinsohn laid out some simple things wash properties can do to ensure their equipment will run properly once the business is reopened. On a more broader note, he stated that the industry as a whole has been making the move towards a more express dominated landscape before COVID-19 and he sees this as a continuing trend:
"I think the industry was going towards an express model very quickly, even before this, but that a lot of the owners who have full service or flex service will look at transforming those car washes into expresses."
Click Here to listen to the full podcast
Iron Fox is a chemical and equipment distributor, offers a full service management and maintenence program, as well as consulting services focused on helping entrepreneurs enter the car wash industry.
For more information on Iron Fox, visit www.ironfox.co or call (540) 935-2540.
Media Contact
Company Name: Iron Fox
City: Warrenton
State: Virginia
Country: United States
Website: www.ironfox.co