DearDoc Launches AI-based AutoDialer for Private Medical Clinics to Automatically Connect with Promising Leads
May 13, 2020 – DearDoc, the 100% cloud-based practice growth platform dedicated to make private medical practice succeed, is pleased to announce a much awaited tool, the AI AutoDialer! Doctors and medical professionals miss out on crucial leads simply because someone else called them up first. With AutoDialer installed, patients receive prompt calls and medical practices flourish.
DearDoc specializes in telemedicine and technologies to grow private medical practices, especially will tools like the SmartChat. But the chat feature still left an important detail out – calling the patients who had inquired. The AI-based AutoDialer fills up this requirement.
As soon as a new patient request is submitted through the AI SmartChat, the AI Autodialer will automatically connect the clinic with the patient, within just 1 minute!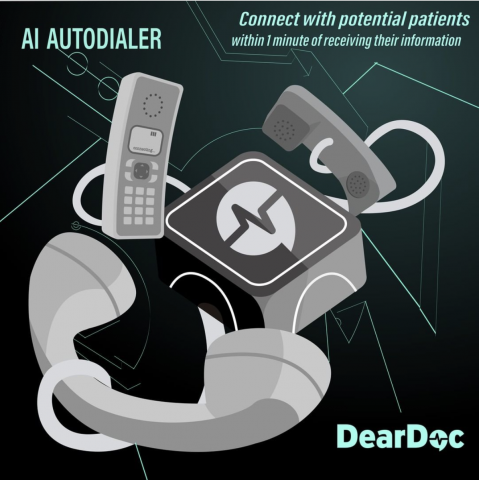 Converting inquiries into appointments is crucial to success. Research has revealed that conversion rates are 391% higher if the patient is called within the first minute, and 78% of patients proceed to the first responder. The AutoDialer is programmed to respond whenever a patient submits an online form or sends information via chat. The AI-based responder calls back saying, "Hey, this is DearDoc, we just received a new patient lead from your website."
"We're on a mission to reinvent how new patients meet their doctor. Our tools are meant to modernize how doctors interact with new and existing patients, and the focus is on growing the practice," said Joe Brown, CEO and Founder, DearDoc.
DearDoc is a cloud-based, medical practice growth platform, and has engaged with and transformed over 1,000 practices across the US. It focuses on ways of interaction that result in conversion of interested parties into patients and revenue growth. DearDoc's Telemedicine package makes it easy to schedule video consultations and securely accept payments.
About
We are a 100% cloud-based medical practice growth platform. Founded in 2018, DearDoc had no customers and no revenue. Roughly one year later, the company had over 60 full-time employees. This is only the beginning.
For more information, please visit: https://www.getdeardoc.com/
Media Contact
Company Name: DearDoc
Contact Person: Joe Brown
Email: Send Email
Country: United States
Website: https://www.getdeardoc.com/