Harkness Screens' Andrew Emmott and Anthony Kelly talk about Events Screens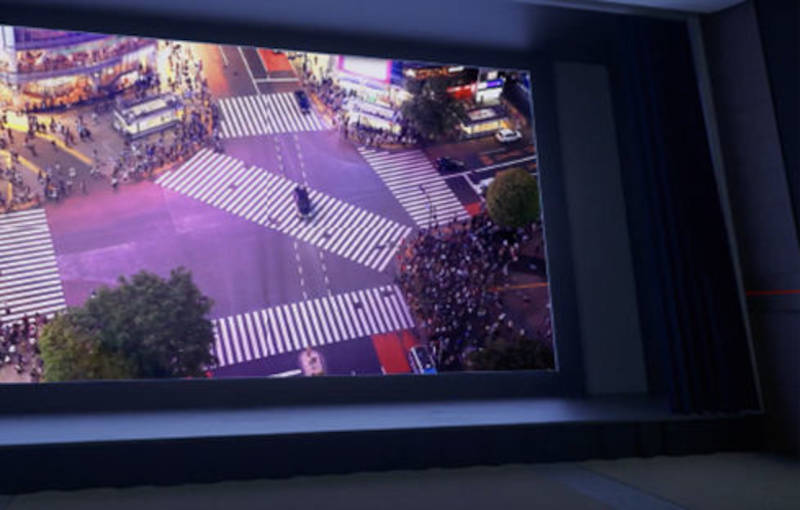 Harkness Screens' Andrew Emmott and Anthony Kelly talk about the uses of events screens and why they are such a big park of Harkness' business.
Whilst Harkness Screens regularly service some of the biggest multiplexes worldwide, the silver screen is just part of the work that Harkness Screens does.
An industry leader in the events screens market, sports and entertainment journalist, Joe Harvey spoke to Andrew Emmott Associate Director, Business Development and Anthony Kelly, SVP Sales & Marketing.
"Events screens is quite a broad term at Harkness," Andrew Emmott said, "Essentially it is non-cinema screens, so they can still be projection screens, and can be projected from the front or the rear. They are commonly used in theaters, conferences, live events and we manufacture the screens to any size and any dimension.
"They are, typically, a little bit more interesting. They might be curved if they are required to be so, we can shape screens to work in a particular environment. Essentially, we can do a lot of weird and wonderful things that are a bit different to cinema, but an important part of our business globally and it is something that we're always looking to drive and push on with."
It was in the 20th century that the exhibiting and presentation industry boomed. Harkness quickly filled the demand for exhibitors that wanted larger screens but were unable to effectively display their products as a result of insufficient light available to them.
Fulfilling this demand with the development of the Perlux screen, Harkness has used its global footprint to gain autonomy in the presentation industry. With so many different uses for events screens, Anthony Kelly says that it is a delight to bring people's work to life.
"You can do so much with projection in galleries, theatres, amusement parks and you can do a lot more with that, than you can with LED," Kelly said, "Obviously, it depends on the setting, but you can create a myriad of different shapes.
"Typically, LED's will be square or rectangular, but there are some very artistic people around the world that come up with great ideas. These ideas could be exhibited in theatres, galleries. One thing that we have spoken about at Harkness is that we focus on the immersive experience and trying to get people into a director's creation.
"When you put something like that into a gallery or amusement park, it takes it to a different, but whole new level. At the end of the day, it is a consumer experience, that's what Harkness does, so we put that into the hands of people that are working in all those different environments."
Harkness' use of PVC is also a big advantage; the first cinema screen manufacturer to implement the use of the material for the cinema. An LED screen is the main alternative to a PVC screen, the latter having many advantages to its use.
Not only is the material far more malleable, and adaptable to the different environments is displayed in. Furthermore, PVC is far more cost effective and is more flexible in its uses, with rear projection available and several screen coatings that display light in different ways.
"The different materials that we have within our portfolio have different reflective properties and they just give you so many options," Emmott said, "The designers we work with, they pretty much get an unlimited resource in terms of the screen material, for the different image that it provides when you are putting light on the screen, or through the screen.
"All the technology is proprietary to our R&D and they do all the testing at our facility in the UK and we do some quite clever things which manipulate how the light goes through the screen and it does create some of the leading screens in the industry and I think that is why we are positioned where we are in the market."
With five manufacturing facilities across the world, Harkness Screens is able to service the biggest events worldwide. Events screens made by Harkness can be found at cinema industry events such as CinemaCon, CineAsia and the Cannes Film Festival.
"Everything we do is global, so quite often you may get the same request when they want to run something in three or four different regions around the world at the same time and we have the capability to do that," Kelly said.
"We have five plants around the world in China, India, France, the UK and US, so we are able to support the locality due to our global footprint. But as much as we are a global company, we still want to support people locally."
Harkness Screens is the official screen supplier for Event Projection Screens and have teamed up with the company to provide Personal Protective Equipment for those on the front line during the Covid-19 global pandemic that has closed cinemas and stopped events worldwide.
Media Contact
Company Name: Harkness Screens
Contact Person: Joe Harvey
Email: Send Email
Phone: +44 (0)1438 725 200
Address:Unit A, Norton Road
City: Stevenage
State: Hertfordshire
Country: United Kingdom
Website: www.harkness.co