Techcommanders Releases Comprehensive Guide to Cracking the New Google Cloud Professional Cloud DevOps Engineer Exam
Techcommanders has come out to help those wondering how to crack the newly released certification from Google Cloud called the "Professional Cloud DevOps Engineer Certification'. This is a challenging exam, and the guide aims to equip everyone with all essential information, practice questions and explanations.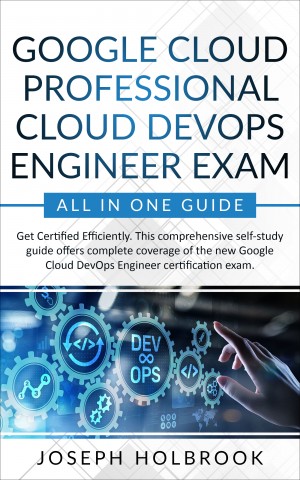 The most recent publication from Techcommanders is "Google Cloud Professional Cloud DevOps Engineer Exam – All in One Guide: Get Certified Efficiently in Google Cloud!" The book deals with all study requirements of this challenging exam, with complete explanations and over 50 illustrations. A practice quiz after each chapter is included to measure adequate preparedness, and an appendix contains 100 practice questions with answers and explanations.
"This guide will help you distinguish yourself as an industry expert quickly. The book will help you to laser sharpen your skills and gain new insight into Google Cloud DevOps," says Joe Holbrook.
For those who wish to go beyond, there are free online practice questions accessible to those who have bought the book. All of this material will be of immense help to anyone aiming to become a certified, Professional Cloud DevOps Engineer, who is responsible for efficient dev operations and balancing of delivery speeds and service reliability of enterprise deployments, as well as building software delivery pipelines and monitoring of services.
Joe is a hyper-involved engineer popularly called the 'Cloud Tech Guy'. With this reputation, over three decades of experience and over 90 certifications, Joe is a trusted authority for all things tech, and shares his acumen, knowledge and insights regularly as a blogger and trainer. Joe is available on popular online platforms such as LinkedIn Learning, O'Reilly, Stormwinds Studios, INE, and Udemy.
Techcommanders is a unique training platform for all things tech, founded by US Navy veteran and an acknowledged guru of Cloud and IT, Joe Holbrook. Joe created Techcommanders to make it a singular ecosystem for receiving expert assistance with the sought after industry certifications.
"Google Cloud Professional Cloud DevOps Engineer Exam – All in One Guide: Get Certified Efficiently in Google Cloud!" is available on major outlets such as Amazon, Barnes and Noble and many more in print and eBook formats.
About
Joe Holbrook has been in the IT field since 1993 when he was exposed to several HPUX systems on board a US Navy flagship USS JFK. He has migrated from UNIX networking world to Storage Area Networking(SAN) and then onto Enterprise Cloud/Virtualization and Blockchain Architectures. He has worked in various engineering roles for numerous companies Hitachi Data Systems, 3PAR Data, Brocade Communications, Dimension Data, EMC, Northrup Grumman and ViON.
Media Contact
Company Name: Techcommanders, LLC
Contact Person: Media Relations
Email: Send Email
Phone: 1 – (904) 512-5529
Address:5011 E Gate PKWY. STE 100
City: Jacksonville
State: Florida
Country: United States
Website: Techcommanders.com