Shenzhen STOGA Technology Co., Ltd. Receives Rave Reviews For Their Mechanical Gaming Keyboard
Leading Chinese-based manufacturers of gaming hardware products, STOGA, announce the launch of STOGA MK25 Mechanical Gaming Keyboard, a user-friendly customizable gaming keyboard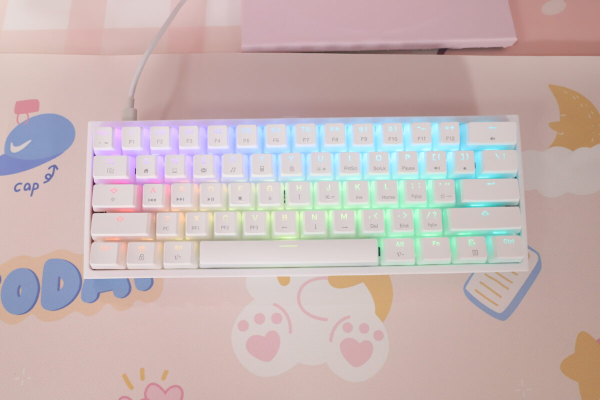 It is looking like good times for gamers across the globe as Shenzhen STOGA Technology Co., Ltd., popularly known as STOGA, introduce their mechanical gaming keyboard. The STOGA MK25 Mechanical Gaming Keyboard, which has already started to garner reviews, comes with 61 Keys RGB Backlight as well as other amazing features that stand it out from other similar products on the market.
"Fun while coding. I am not a PC gamer but a hardcore coder/developer. I like the sound of keys while working.* This is a compact keyboard and works for both Windows and Mac OS. For Mac OS you need to set up the keyboard type when you first time connects this.* Comes with Type C cable as this is a wired keyboard.* Small keyboard so easily fits in your laptop bag if you want to carry this with you.* So many light color options. I am still exploring :)* Soft keys and not make much noise while pressing them.* Ergonomic design for your hand position," said Sam.
The STOGA MK25 Mechanical Gaming Keyboard is designed to create an immersive experience for users, with 100 realizable keys after FN combinations to deliver an all-inclusive and unprecedented feeling to players. Other features of the keyboard are RGB lighting design, delicate and soft keys, several cool lighting effects, and full keyboard backlight customization support.
Described as "the most ergonomic keyboard," the device is designed to offer a high-performance gaming experience, with a full-speed USB communication protocol and USB online update support to meet the speed requirements of competitive games. The portable STOGA wired compact mechanical mini keyboard offers an amazing blend of functionality and style, with a wire length of about 1.6 meters and multi-OS compatibility, including Windows, Android, Linux, iOS, and other operating systems and gaming PCs.
In line with the goal of making an amazing gaming experience possible for as many people as possible across the globe, Shenzhen STOGA Technology Co., Ltd. has launched a Christmas deal for customers. The Christmas promotion will allow shoppers to get as much as 20% off on all products in the store by using the discount code – "Xmas20." This will ensure that gamers do not have to break the bank to get the top-notch gaming solutions from Shenzhen STOGA Technology Co., Ltd., ultimately delivering the best possible Xmas gift to players.
Shenzhen STOGA Technology Co., Ltd. currently offers a plethora of products across different categories, including video games, pc games, desktop supplies, personal dress, and pet supplies, amongst others.
For more information about the recently launched mechanical gaming keyboard, the Christmas promo, and the range of gaming solutions from Shenzhen STOGA Technology Co., Ltd., visit – https://stoga.pink/. Shenzhen STOGA Technology Co., Ltd. can also be found across social media, including Facebook, Instagram, and Twitter.
About Shenzhen STOGA Technology Co., Ltd.
Shenzhen STOGA Technology Co., Ltd. is a Chinese company that specializes in creating top-notch gaming hardware products. The company launched stogapink.com as a game peripheral website dedicated to female consumers under the Stoga brand. The goal is to provide women with exquisite products to enable them to have visual enjoyment not only in the game but also outside the game.
Media Contact
Company Name: Shenzhen STOGA Technology Co., Ltd
Contact Person: HUIMIN JIN
Email: Send Email
Country: China
Website: https://stoga.pink/