Led By Samir Genid, Genid Group at Realty One Group Legend, Gets Over 150 Five-Star Google Reviews
Their hardworking agents go above and beyond for their clients, making the real estate team a favorite of New Jersey buyers and sellers alike.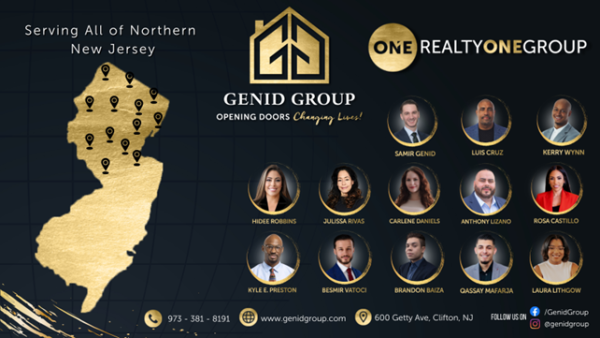 Serving all of Northern New Jersey, Genid Group, led by Samir Genid and his amazing team, is changing lives by offering NJ home buyers and sellers the personal attention they deserve. Samir personally trains his expanding team to make sure everyone is dedicated to following the most recent market trends in New Jersey and staying on top of changes to the rules and regulations governing the state's real estate industry.
"Treating clients the same way we would want our own family members to be treated," is the guiding principle for this NJ real estate agency's top-producing team.
Samir Genid puts it simply, "I tell clients 'I'll be the first person to tell you 'no' about a house if it's not the one. We understand how emotional and stressful buying or selling a home in NJ can be. Serving with compassion, integrity, and honesty are paramount to our team's culture and how we operate as a whole."
Learning new ways to implement various tech tools, for the benefit of the clients they represent, is just another reason the Genid Group is so successful. Genid Group provides a concierge service, similar to an app, to help with every aspect of a client's move. Their multiskilled staff can arrange a wide range of services, from house cleaning to moving trucks, and even provides tools to make the switch to a new utility company as easy as possible.
With advanced, behind-the-scenes marketing, sellers enjoy maximum exposure of their property, as well as the potential to match with an ideal buyer inside their system's network – increasing the odds for competing offers and more money in the client's pocket come closing day. By sending customized property alerts right to purchasing clients' inboxes, and notifying them the moment an NJ property hits the market that fits the desired criteria, the team enables their buyers to construct a completely personalized home search experience.
The experienced team ensures that nothing slips through the cracks during each transaction, by lessening the room for error through their advanced technological process, allowing for more time to concentrate on each client's unique needs.
It is clear why New Jersey residents, and those who will soon call New Jersey their home, rely on the Genid Group for all things related to NJ real estate. The real estate agents pride themselves on being informed, devoted specialists who are always accessible, while refusing to cut corners on customer service.
Luis Cruz from Genid Group sums up their team's culture, explaining, "Whether you are buying, selling, 'just looking,' or unsure where to start, someone from the Genid Group is always ready and available to help you with your real estate journey. We guarantee every one of our staff will treat you like family!"
For more information, please visit genidgroup.com.
Media Contact
Company Name: Genid Group
Contact Person: Samir Genid
Email: Send Email
City: Clifton
State: New Jersey
Country: United States
Website: www.genidgroup.com