Alcoholic hepatitis Market to Witness Upsurge in Growth During the Forecast Period (2022-2032), Examines DelveInsight | Key Companies – Durect Corporation, Novartis, Akaza Bioscience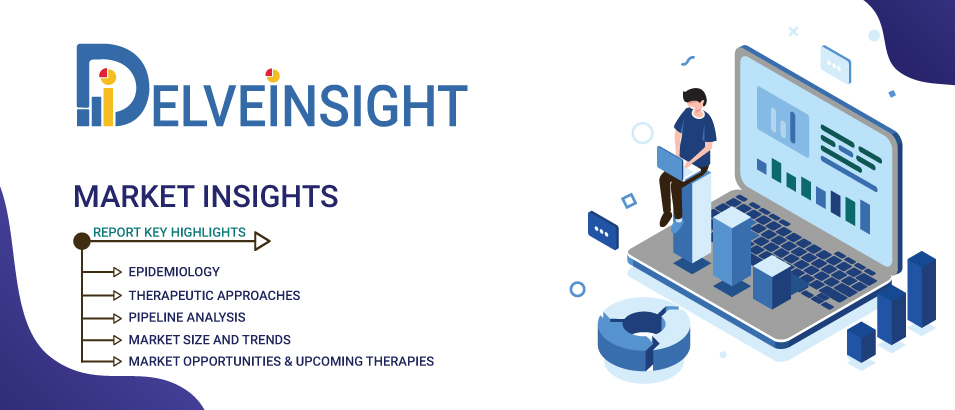 DelveInsight's "Alcoholic hepatitis Market Insights, Epidemiology, and Market Forecast-2032″ report offers an in-depth understanding of the Alcoholic hepatitis, historical and forecasted epidemiology as well as the Alcoholic hepatitis market trends in the United States, EU5 (Germany, Spain, Italy, France, and United Kingdom) and Japan.
The Alcoholic hepatitis market is expected to surge due to the disease's increasing prevalence and awareness during the forecast period. Furthermore, launching various multiple-stage Alcoholic hepatitis pipeline products will significantly revolutionize the Alcoholic hepatitis market dynamics.
Alcoholic hepatitis Overview
Alcoholic hepatitis (AH), as the name suggests, is hepatitis – inflammation of the liver – due to excessive intake of alcohol. Patients typically have a history of heavy alcohol intake, about 8–10 drinks per day. It is usually found in association with fatty liver, an early stage of alcoholic liver disease, and may contribute to fibrosis progression, leading to cirrhosis.
Alcoholic hepatitis symptoms may present acutely after a large amount of alcoholic intake in a short period, or after years of excess alcohol intake. Signs and symptoms of alcoholic hepatitis include jaundice (yellowing of the skin and eyes), ascites (fluid accumulation in the abdominal cavity), fatigue, and hepatic encephalopathy (brain dysfunction due to liver failure). Mild cases are self-limiting, but severe cases have a high risk of death.
Some of the key facts of the Alcoholic hepatitis Market Report:
The Alcoholic hepatitis market size was estimated for USD 5.0 Million in the year 2021 and is anticipated to grow with a significant CAGR during the study period (2019-2032)
Diagnosed moderate-to-severe alcoholic hepatitis cases in the 7MM countries were 857,524 in 2021
The United States had the highest prevalent alcoholic hepatitis population, with 346,159 cases in 2021
Among future therapeutic directions, gene therapy, is perhaps the most appealing modality. Various genes involved in hepatic fibrogenesis, inflammatory response, and oxidative stress are overexpressed in alcoholic hepatitis.
Key Alcoholic hepatitis Companies: Durect Corporation, Novartis, Akaza Bioscience, and others
Key Alcoholic hepatitis Therapies: DUR-928, Canakinumab, TAK-242, and others
The Alcoholic hepatitis epidemiology based on gender analyzed that there are more cases for Alcoholic Hepatitis in males than females
Get a Free sample for the Alcoholic hepatitis Market Report
Key benefits of the Alcoholic hepatitis Market report:
Alcoholic hepatitis market report covers a descriptive overview and comprehensive insight of the Alcoholic hepatitis Epidemiology and Alcoholic hepatitis market in the 7MM (the United States, EU5 (Germany, Spain, France, Italy, UK) & Japan.)
The Alcoholic hepatitis market report provides insights on the current and emerging therapies.
Alcoholic hepatitis market report provides a global historical and forecasted market covering drug outreach in 7MM.
The Alcoholic hepatitis market report offers an edge that will help develop business strategies by understanding trends shaping and driving the Alcoholic hepatitis market.
Discover more about therapies set to grab major Alcoholic hepatitis market share @ Alcoholic hepatitis market forecast
Alcoholic hepatitis Epidemiology Segmentation:
The Alcoholic hepatitis market report proffers epidemiological analysis for the study period 2019–2032 in the 7MM segmented into:
Total Prevalence of Alcoholic hepatitis
Prevalent Cases of Alcoholic hepatitis by severity
Gender-specific Prevalence of Alcoholic hepatitis
Diagnosed Cases of Episodic and Chronic Alcoholic hepatitis
Alcoholic hepatitis Market
The dynamics of the Alcoholic hepatitis market are anticipated to change in the coming years owing to the expected launch of emerging therapies and others during the forecasted period 2019-2032.
Download the report to understand which factors are driving Alcoholic hepatitis epidemiology trends @ Alcoholic hepatitis Epidemiological Insights
Alcoholic hepatitis Market Drivers
Emerging Alcoholic hepatitis Therapies
Novel Alcoholic hepatitis Treatment Options
Higher Alcoholic hepatitis Patient Pool
Technological Advances
Alcoholic hepatitis Therapies and Key Companies
DUR-928: Durect Corporation
Canakinumab: Novartis
TAK-242: Akaza Bioscience
Scope of the Alcoholic hepatitis Market Report
Study Period: 2019–2032
Coverage: 7MM [The United States, EU5 (Germany, France, Italy, Spain, and the United Kingdom), and Japan]
Key Alcoholic hepatitis Companies: Durect Corporation, Novartis, Akaza Bioscience, and others
Key Alcoholic hepatitis Therapies: DUR-928, Canakinumab, TAK-242, and others
Alcoholic hepatitis Therapeutic Assessment: Alcoholic hepatitis current marketed and Alcoholic hepatitis emerging therapies
Alcoholic hepatitis Market Dynamics: Alcoholic hepatitis market drivers and barriers
Competitive Intelligence Analysis: SWOT analysis, PESTLE analysis, Porter's five forces, BCG Matrix, Market entry strategies
Unmet Needs, KOL's views, Analyst's views, Alcoholic hepatitis Market Access and Reimbursement
Alcoholic hepatitis Market Barriers
Higher Mortality
High Cost of Alcoholic hepatitis Treatment
Key Barriers to Drug Development
Table of Contents
1. Alcoholic hepatitis Market Report Introduction
2. Executive Summary for Alcoholic hepatitis
3. SWOT analysis of Alcoholic hepatitis
4. Alcoholic hepatitis Patient Share (%) Overview at a Glance
5. Alcoholic hepatitis Market Overview at a Glance
6. Alcoholic hepatitis Disease Background and Overview
7. Alcoholic hepatitis Epidemiology and Patient Population
8. Country-Specific Patient Population of Alcoholic hepatitis
9. Alcoholic hepatitis Current Treatment and Medical Practices
10. Alcoholic hepatitis Unmet Needs
11. Alcoholic hepatitis Emerging Therapies
12. Alcoholic hepatitis Market Outlook
13. Country-Wise Alcoholic hepatitis Market Analysis (2019–2032)
14. Alcoholic hepatitis Market Access and Reimbursement of Therapies
15. Alcoholic hepatitis Market drivers
16. Alcoholic hepatitis Market barriers
17. Alcoholic hepatitis Appendix
18. Alcoholic hepatitis Report Methodology
19. DelveInsight Capabilities
20. Disclaimer
21. About DelveInsight
To know more about Alcoholic hepatitis treatment, visit @ Alcoholic hepatitis Medications
Media Contact
Company Name: DelveInsight Business Research LLP
Contact Person: Gaurav Bora
Email: Send Email
Phone: 9193216187
Address:304 S. Jones Blvd #2432
City: Las Vegas
State: Nevada
Country: United States
Website: https://www.delveinsight.com/