My Globetrotter Book and Canadian Author Honoured At the Air France Lounges in Paris
Montreal – September 23, 2022 – Canadian author Marisha Wojciechowska had the honor of signing her books, My Globetrotter Book, in person at the Air France Lounges in Paris during an exclusive event organized by Air France, last August. Her books were offered to young Air France passengers at Roissy-Charles-de-Gaulle and Orly, both at the Lounges and at the boarding gates of select flights to New York City.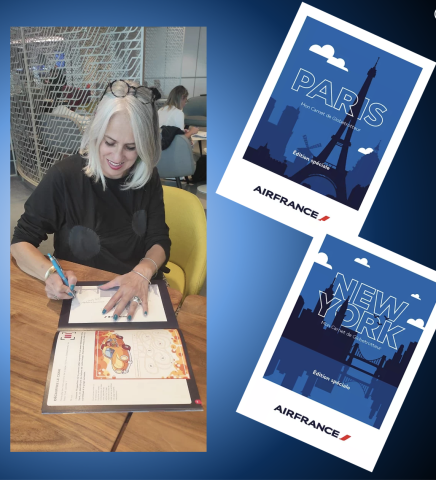 The Air France Customer Experience Department, in collaboration with the Business Development Department, has always been committed to offering entertainment of value to families and young children travelling by air, thus reinforcing this attentive relationship while highlighting artists and talents such as Marisha, author of My Globetrotter Book.
My Globetrotter Book, in collaboration with the Air France team, created Special Editions of the titles 'Paris' and 'New York' for this exclusive event. They are fun and educational activity books for young globetrotters eager to discover the world.
Equipped with a special pass and escorted by the Air France team to access the areas reserved to travelers, the author spent the day of August 4th at the Air France Lounges at Roissy-Charles- de-Gaulle airport, in book signing sessions. And on August 5th, Marisha Wojciechowska went to Orly airport to sign and offer her creations to young globetrotters. My Globetrotter Book continued to be offered to travelers of Air France at Roissy and Orly, throughout the month.
"When I created My Globetrotter Book, I had envisioned seeing young people with my books in their hands while waiting for their flights. How exciting it was to see the sparkle of wonder in the eyes of the young globetrotters when I dedicated my books to them! It is so wonderful to feel that I am contributing in some small way to opening the horizons of the world to kids! It's a real dream come true that I experienced thanks to Air France, and I'm so grateful to them." – Marisha Wojciechowska
Roughly 700 Special Editions were offered to young Air France travelers during the month of August. Air France also promoted this special event for children at its headquarters in Roissy, communicating it among all their employees.
This prestigious operation obviously gives unparalleled visibility and notoriety to My Globetrotter Book, a young Canadian publishing enterprise!
About Marisha Wojciechowska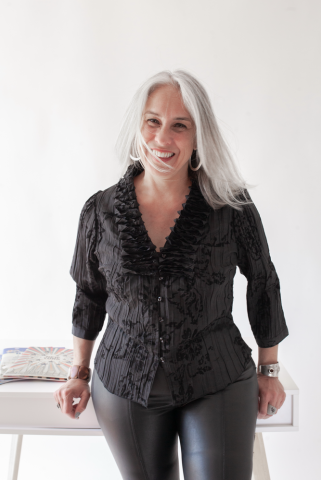 Photo credit: MarieMarine Photographie
Marisha Wojciechowska has lived in Montreal, Toronto, Paris, New York, Tokyo, and Bangkok, before returning to Quebec, after more than 20 years abroad. For more than 20 years, she has collaborated with various international organizations, such as the United Nations, to communicate messages on water management to decision makers. In parallel, she wanted to open the world's horizons to her son so he would grow to become a citizen of the world. This is how My Globetrotter Book was born. And now that he has become a young man, she continues her Globetrotter adventure so that other young people can also learn about and marvel at all the cultures that surround us. So they may hold the world in the palm of their little hands.
About My Globetrotter Book
My Globetrotter Book was launched in July 2019, aiming to give youth, aged 6 to 12, a fun and educational way to discover the world. This collection stems from the Canadian author, Marisha Wojciechowska, and her desire to unveil the world to her son. The graphic design is by Angel Gyaurov, based in Sofia, Bulgaria. This creative duo has been working internationally for many years, producing various reports in the field of water management for the United Nations and other international entities. My Globetrotter Book is distributed in Canada by Diffusion Dimédia, in France and Belgium by Pollen DifPop, in Thailand by Asia Books and in Singapore by Pansing Ltd. They are also available on Amazon. To learn more aboutMy Globetrotter Book, please click here. My Globetrotter Book was awarded a Mom's Choice Awards Gold Seal, and an Independent Authors Network Award.
Previous Media and Reviews
TV & Video
• Interview, O-taku Manga Lounge, Montréal
• LCN Channel "L'expérience des jeux en pandémie"
Print
• The Straits Times, Singapore
• La Presse, Montreal
Radio
• Radio-Canada, Le 15-18
• Radio-Canada Ontario, Enfin samedi:
• Radio-Canada Estrie, Par ICI l'info
• UNique FM, Ottawa: Le Retour
• Pour en apprendre davantage sur le Japon, écoutez Marisha Wojciechowska, autrice du guide Tokyo, sur QUB radio
Blogs, stories
• Les Arts Zé, Quebec
• TPL Moms, Quebec
• Catherine Bouquine, Quebec
• Cité boomers, Quebec
• Carlota's web, Quebec
• Minireyve, France, Instagram story, 1 July 2021, 77+k followers
• TheAsianParent, Singapore, Instagram story, 28 June 2021, 27k followers
• bb_jetlag, Quebec, Instagram story, 12 April 2021, 7+k followers
• Unautrebloguedemaman, Quebec, Instagram post,10 June 2021, 7+k followers
For more information or to request an interview, please contact: Marisha Wojciechowska, My Globetrotter Book: [email protected]
Website (bilingual): http://www.myglobetrotterbook.com
Email: [email protected]
Facebook: https://www.facebook.com/MyGlobetrotterBook
Instagram: https://www.instagram.com/myglobetrotterbook/
Media Contact
Company Name: My Globetrotter Book
Contact Person: Marisha Wojciechowska
Email: Send Email
Phone: +1-514-776-5102
Country: Canada
Website: https://www.myglobetrotterbook.com/