'Elvis' Movie Actor Alton Mason and Model Tanyka Renee Seen Enjoying Antigua's Carnival 2022
ST. JOHN'S, ANTIGUA – September 23, 2022 – After a two-year break, Antigua's Carnival returned this summer with all its vibrancy and energy to the delight of carnival-lovers who immersed themselves in the carnival atmosphere of the Caribbean's Greatest Summer Festival held from July 27 – August 2, 2022.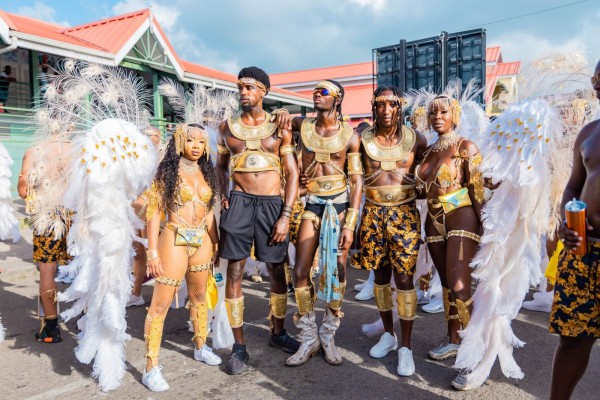 Photo Caption: 'Elvis' movie actor Alton Mason (center) and social media maven and model Tanyka Renee Henry (far right) were spotted partying with friends in Antigua during Antigua's Carnival (Photo credits Watkins Multimedia)
Amongst the masqueraders spotted on Carnival Monday dancing to soca and steelpan music under the summer sun were American male model and 2022 'Elvis' biopic actor Alton Mason and social media maven, travel influencer and model Tanyka Renee Henry. The duo was seen enjoying themselves with friends in the mas' band Insane Carnival.
The group had such a great time on Carnival Monday that they returned on Carnival Tuesday for the costume parade. Alton who portrays musical icon Little Richard in the 2022 'Elvis' film wore a golden costume and was seen showing off his stealth dance moves as his feet sparkled in diamond studded boots. In what could only be considered a masterpiece, Tanyka Renee stood out from the sea of masqueraders in a headliner costume from the Insane section 'Milan' drawing nods of approval from spectators. Their entire group was seen having an amazing day as they glistened in sparkling gold and glamorous white feathered costumes and weaved their way through the bustling streets of St. John's – a kaleidoscope of colour and energy with partying masqueraders and spectators.
The influencers were also spotted on social media enjoying themselves throughout Antigua. Instagram posts from Dr. Hakim Dubois @Iammisternewyork, allowed viewers to follow the group as they relaxed on a sunset cruise along Antigua's scenic coastline. The group enjoyed a zipline adventure through Antigua's lush rainforest and learned how to make one of Antigua and Barbuda's popular national dishes ducana, during a local cooking class hosted by friend @Iammisternewyork. Recent posts also show Alton and Tanyka at one of the island's newest restaurants Rokuni.
The group stayed at the luxurious Verandah Resort and Spa and the Pineapple Beach Club, the perfect tropical hideaway for their summer vacation.
Antigua and Barbuda Tourism Authority's Marketing Communications Manager, Maria Blackman said "We are delighted that Alton, Tanyka, and their friends to include Dr. Hakim Dubois who has Antiguan background, chose to visit us for Antigua's Carnival.
"Our carnival celebrations offer such a culturally rich experience. With artistry and talent on full display, and fetes taking place throughout the island – it is truly a great time to be in Antigua! We're inviting everyone to join us next summer for Antigua's Carnival 2023, and of course, when the celebrations are over, there is no better place to relax than on one of our 365 stunning beaches."
Other social media influencers and media from the Caribbean, Canada and United Kingdom were seen partying it up in Antigua for the 2022 carnival as guests of the Antigua and Barbuda Tourism Authority.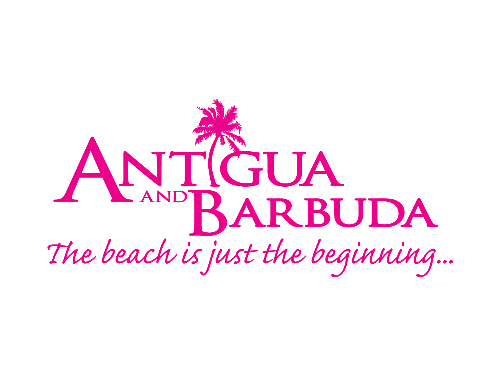 ABOUT THE ANTIGUA AND BARBUDA TOURISM AUTHORITY
The Antigua & Barbuda Tourism Authority is a statutory body dedicated to realizing the tourism potential of Antigua & Barbuda by promoting the twin island state as a unique, quality tourist destination with the overall objective of increasing visitor arrivals thereby providing sustainable economic growth. The Antigua and Barbuda Tourism Authority is headquartered in St. John's Antigua, where regional marketing is directed. The Authority has three offices overseas in the United Kingdom, United States and Canada.
ABOUT ANTIGUA AND BARBUDA
Antigua (pronounced An-tee'ga) and Barbuda (Bar-byew'da) is located in the heart of the Caribbean Sea. The twin-island paradise offers visitors two uniquely distinct experiences, ideal temperatures year-round, a rich history, vibrant culture, exhilarating excursions, award-winning resorts, mouth-watering cuisine and 365 stunning pink and white-sand beaches – one for every day of the year. The largest of the English-speaking Leeward Islands, Antigua comprises 108-square miles with rich history and spectacular topography that provides a variety of popular sightseeing opportunities. Nelson's Dockyard, the only remaining example of a Georgian fort a listed UNESCO World Heritage site, is perhaps the most renowned landmark. Antigua's tourism events calendar includes the prestigious Antigua Sailing Week, Antigua Classic Yacht Regatta, and the annual Antigua Carnival; known as the Caribbean's Greatest Summer Festival. Barbuda, Antigua's smaller sister island, is the ultimate celebrity hideaway. The island lies 27 miles north-east of Antigua and is just a 15-minute plane ride away. Barbuda is known for its untouched 11-mile stretch of pink sand beach and as the home of the largest Frigate Bird Sanctuary in the Western Hemisphere.
Find information on Antigua & Barbuda at: www.visitantiguabarbuda.com or follow us on Twitter: http://twitter.com/antiguabarbuda Facebook: www.facebook.com/antiguabarbuda; Instagram: www.instagram.com/AntiguaandBarbuda
For Antigua and Barbuda media enquiries, please contact:
Maria Blackman
Marketing Communications Manager
Antigua and Barbuda Tourism Authority
T: 1 (268) 562 7600/464-7601
Antigua and Barbuda Images: aandbtourism.fotoseeker.com
Download Alton Mason and Tanyka Renee Carnival 2022 High-res photos here: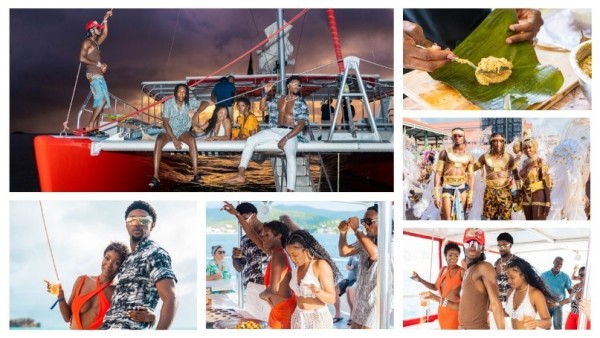 Media Contact
Company Name: The Weinberg Agency
Contact Person: Kathleen Kennedy
Email: Send Email
Country: United States
Website: https://www.linkedin.com/in/laurenweinberg13