Zenkgo Debuts Organic Raw Beetroot Powder Which Will Be a Turning Point in Natural Nutrition Production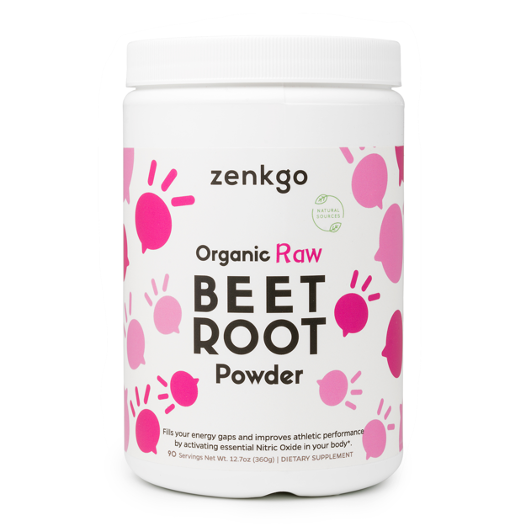 Zenkgo is a nutrition brand that combines the best of Eastern and Western nutrition, and the team is on a mission to empower people to build healthier lifestyles. They came together as a group of Cornell-trained food scientists and healthy lifestyle enthusiasts passionate about fitness, nutrition, yoga, mountain biking and more.
Zenkgo has introduced a range of nutritional products, using their experience to improve people's health. Zenkgo's recently launched Raw Beet Root Powder will continue this trend, setting a new standard of quality and efficacy for the nutrition industry.
A Natural Energy Booster
Zenkgo's Raw Beet Root Powder is a natural energy supplement that is highly effective in boosting energy. Nitrates, abundant in beets, enhance blood flow and relax blood vessels. Zenkgo makes the powder by juicing entire beetroots and then dehydrating the juice, rather than grinding them into powder like almost all other beetroot supplements on the market. It is therefore simpler to blend and absorb.
Overall health booster
Zenkgo's Raw Beet Root Powder gives a person's health the best it deserves. Organic beets are the only ingredient of Zenkgo's Raw Beet Root Powder. It's free of significant allergens such as milk, eggs, peanuts, tree nuts, fish, shellfish, soy, gluten, or wheat. Additionally, there are no chemical preservatives, flavors, or colors. The Beet Root Powder provides essential nitric oxide to the human body. Zenkgo's Raw Beet Root Powder improves athletic endurance, supports healthy blood pressure, and helps increase circulation.
Clean and Safe
The deep red color signals the presence of betalains, which are powerful antioxidants. Zenkgo uses organic beets of the highest quality, so you can use this nutritious bright red powder as natural food coloring by mixing it with water, juice, smoothies or other ingredients. The additional sweetness is a treat, too. Finally, the raw beet root powder is produced in the USA at a GMP-certified factory.
How to Use
It is very convenient to use, so you can begin using it within minutes. You can simply mix Zenkgo's Raw Beet Root Powder into water, juice or a smoothie, and drink. Or you can mix it into a dish or ready-to-bake food – for example you can also mix it with your oatmeal at breakfast or mix it with your pre-workout drink. One scoop of Zenkgo's Raw Beet Root Powder is equal to 20 fresh beets, and it dissolves easily in water, is easy to absorb, is sustainable, and is completely natural with no questionable ingredients.
What Consumers Say
"I've been using beetroot supplement for a couple of years and have tried quite a few brands. I'm really impressed with ZENKGO Organic Raw Beet Root Powder. I love how easily it mixes up. I put it in a mixer cup and add cold water & I like to add my powdered collagen and biotin simultaneously. It's Organic. And, the 12.7oz container has 90 servings which is a deal that's 3 months' worth! Stay Healthy" says Ms TinaGeane2, a happy consumer of Zenkgo's Raw Beet Root Powder.
About Zenkgo
Eddie Cai co-founded Zenkgo in 2020 with his classmates at Cornell University. Eddie has a B.S. in Food Science, and Zenkgo's formula scientist has a PhD in Food Science. Zenkgo is a nutrition company selling multivitamins, beetroot powder and other supplements.
Describing the brand name "Zenkgo", Eddie says: "During the pandemic, I saw how Covid-19 changed people's work and social lives, and that our nutrition structure was also affected as a result. In the brand name Zenkgo, you can easily catch 'Zen' – a word from Japanese philosophy promoting balance and peace. That explains how we want our products to be – tools to help people find 'Zen' by becoming a better version of themselves." Eddie and his team spent more than six months developing this Raw Beet Root Powder. The product is now available on Amazon and the Zenkgo website.
Media Contact
Company Name: Zenkgo
Contact Person: Eddie Cai
Email: Send Email
Country: United States
Website: https://www.zenkgo.com/