STAR IZ BORN – The World's First Fully VR K-Pop show in Metaverse with Immersive 3D Sound announced
The live festival is scheduled for 11/25 at 8 PM (Chicago CST), 11/26 at 8 PM (Seoul KST), and 11/27 at 8 PM (London GMT)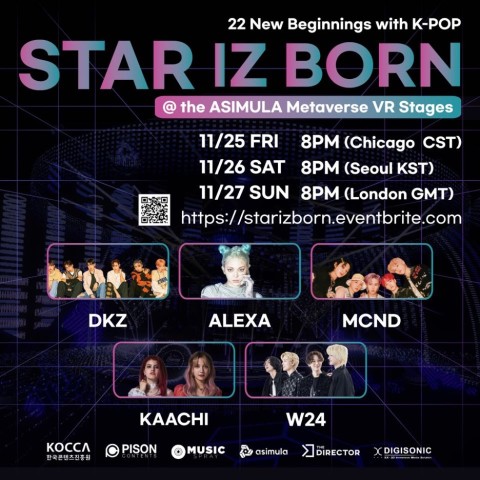 '2022 New Beginnings with K-Pop: STAR IZ BORN' is bringing together the 5 big K-Pop artists: AleXa, MCND, DKZ, W24, and KAACHI. This massive K-Pop music event is presented by PISON CONTENTS and KOCCA(the Korean Creative Content Agency) as an online showcase festival in the Metaverse Virtual Reality with immersive 3D sound.
As a metaverse K-Pop festival, STAR IZ BORN will be available for streaming on the ASIMULA apps for a fully immersive VR experience with Meta Quest. Also, even if a music lover doesn't have Meta Quest, they can enjoy it on their PC or smartphone like a multiplayer online 3D video game!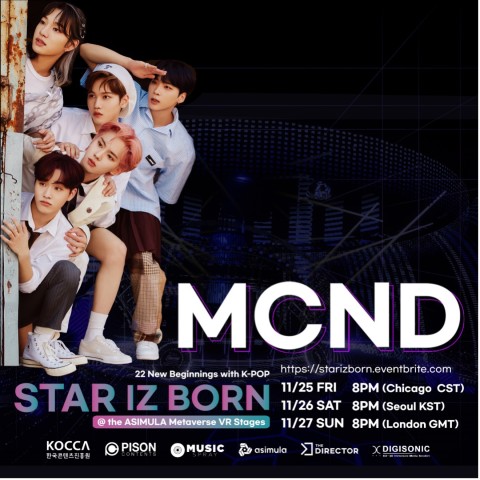 The event will be live-streamed globally across three days as the following schedules (3 times) November 25th, 8 PM (Chicago CST) / November 26th, 8 PM (Seoul KST) / November 27th, 8 PM (London GMT).
Tickets are available for $20 for all artists' stages and all schedules on Eventbrite and on the Facebook event page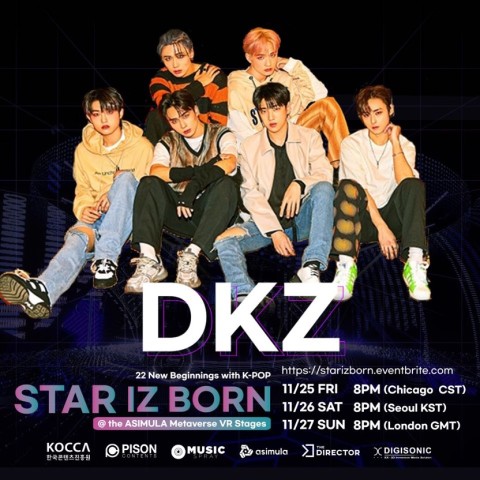 This Metaverse K-Pop festival is presented in collaboration with ASIMULA and DIGISONIC, who will provide the most immersive video and audio VR experience possible with their 360o 3D ultra-realistic graphic and sound technology. Viewers will be able to have vivid experiences with their favorite artists as if they were standing right next to the stage. In addition, creating an experience comparable to attending actual concerts in the Metaverse while incorporating even more immersive elements.
Ticket holders to the special Metaverse VR stages will enjoy all the concerts of AleXa, MCND, KAACHI, W24, and DKZ (for free to all as an opening stage), with three highlight songs per artist.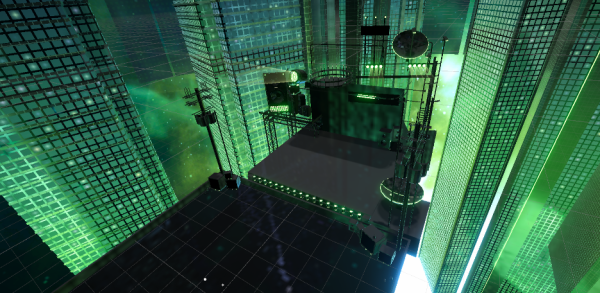 This festival is expected to feature one-of-a-kind performances in collaboration events with the following talented K-Pop fans who won auditions last summer around the world.
– Vocalist [Alsa Aqilah] from Indonesia, for the AleXa stage, has 10 million followers on TikTok@alsaaq.
– Dancer [Holly S-F] from the UK, for the MCND stage, is the winner of 'Produce 101 Reading', the UK National K-pop dance competition for individuals.
– Vocalist [Johnny Copley] from the UK, for the KAACHI stage, makes K-Pop-related content as a composer and lyricist, and he has 630K subscribers on YouTube
– DJ [PiNK] from South Korea, for the W24 stage, plays a virtual human influencer [HiRa] as an actual human figure in the real world. Dj [PiNK] Instagram handle is hi_hira_
The DKZ stage is available for free as the opening stage. All a person has to do is visit https://starizborn.com (Under the sponsorship of K-Culture Tech Consortium and Artist First Alliance, thank you!)
For more details, send an email to [email protected]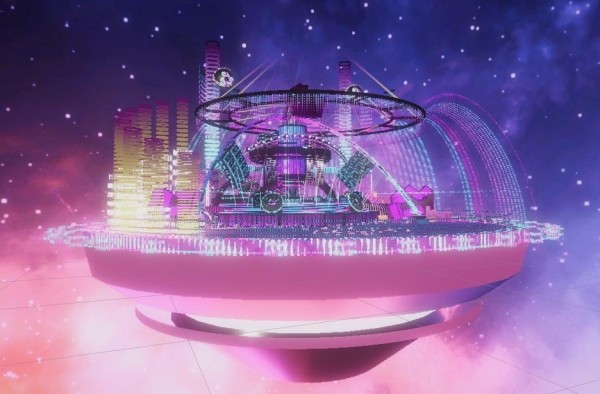 [Credit]
Executive Producer: PISON CONTENTS (a.k.a MUSICSPRAY)
Co-Executive Producer: KOCCA
Immersive Metaverse Production: ASIMULA
360' Immersive Sound Production: DIGISONIC
Production Supervisor: THE DIRECTOR
Online Promotion: FRONTROW
Cast Supervisor: KREAON
Show Music Director: BAND FAMOUS (Myunghan Ryu, Wonki Bang, Hyunboo Hwang)
ABOUT THE ORGANIZERS.
About MusicSpray (powered by Pison Contents)
MusicSpray, a Pison Contents service, is a global music distribution and publishing online service platform. The company has managed over 100,000 songs to global digital retailers such as Apple Music, Spotify, Amazon, and YouTube, with over 5,000 artists. Pison Content focuses on building a sustainable music business through ICT solutions and platforms that leverage cutting-edge technologies such as the Internet, data science, and artificial intelligence.
About KOCCA
The Korea Creative Content Agency (KOCCA) was formed in May 2009 by the merger of five related organizations, including the Korean Broadcasting Institute, the Korea Culture & Content Agency, and the Korea Game Agency. KOCCA is a content marketing agency that promotes all types of content. We established a comprehensive support system to promote the content industry to develop Korea into one of the top five content powerhouses in the world. KOCCA operates a variety of support businesses to assist Korea's content industry in becoming a global leader in the creative economy.
Media Contact
Company Name: Frontrow Global Limited
Contact Person: Luke Kim
Email: Send Email
Country: South Korea
Website: frontrow.ai