Multimedia Brand Lost & Found In Italy To Launch Luxury Travel Magazine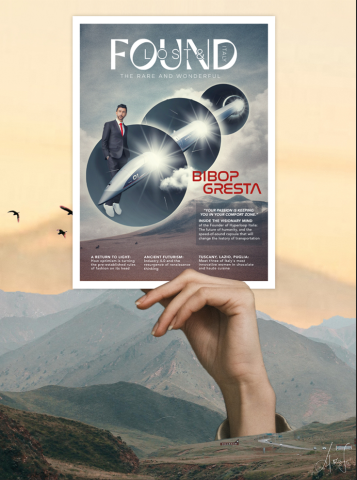 ROME, Italy – 12 April, 2023 – The Canadian book and film brand Lost & Found in Italy, owned and published by Over-Key Media Content & Communication Inc., is set to launch its debut issue of Lost & Found Italy magazine, in partnership with Rome-based IT leader PcCube s.r.l, on April 11, 2023.
The inaugural print issue of the magazine will launch simultaneously with its digital platform, lfitalymag.com as well as its corresponding social media channels.
"There's more to Italy than pizza and pasta. As with the book series and upcoming feature documentary, Lost & Found Italy magazine uses Italy as a lens through which to view the past, present, and future, to answer the needs of International world-class travelers with an affinity for the rare and wonderful," says Giovanna G. Bonomo, Editor in Chief.
The April issue launch cover, designed by Italian artist Giuseppe Lepore, features the Founder of Hyperloop Italia and co-founder of US-based Hyperloop TT Gabriele "Bibop" Gresta, and the Hyperloop in a futuristic setting.
The debut issue includes an eclectic mix of collage art by Lepore, digital art by celebrated artist and designer Ken Kelleher (@anchorball), and landscape photography by Alessandro Camponeschi.
The first edition also aims to highlight extraordinary stays from Sicily to South Tyrol, the work of numerous Italian innovators in art, food, and technology, as well as each issue, together with Italian and International contributors.
Members of the editorial team include Giovanna G. Bonomo, Editor-in-Chief of LF Italy, Italian Fashion Journalist Nenella Impiglia, UK Artist & Designer Michal Cole, and International Food Writer Alfonso Isinelli.
Four issues will be released during the year. The print and digital magazines will be published quarterly. Through the global network of Over-Key Media Content & Communication Inc., Lost & Found Italy magazine is handed over in person to selected premium airport lounges, hotels, restaurants, and private yacht charter and chauffeur companies.
NOTE TO EDITORS Lost & Found Italy magazine is a quarterly print and digital magazine targeted to an international world-class readership with a signature mix of reporting on Italian excellence, Hidden Gems and Opportunities, Business, Innovation, Culture, Art, Gastronomy, Beauty, Design, and Exclusive Interviews.
WATCH LAUNCH VIDEO HERE: https://youtube.com/shorts/7lhD5aWlC_g?feature=share
MEDIA CONTACT:
WEBSITE: lfitalymag.com
INSTAGRAM: @lfitalymagazine
For further information please contact the LF Italy magazine international press office; Tony Blescia: [email protected]
Media Contact
Company Name: LF Italy magazine
Contact Person: Tony Blescia Managing Director
Email: Send Email
Country: Italy
Website: lfitalymag.com