A Woman Who Has Helped Many Women Get Pregnant Wins Fertility Specialist Of The Year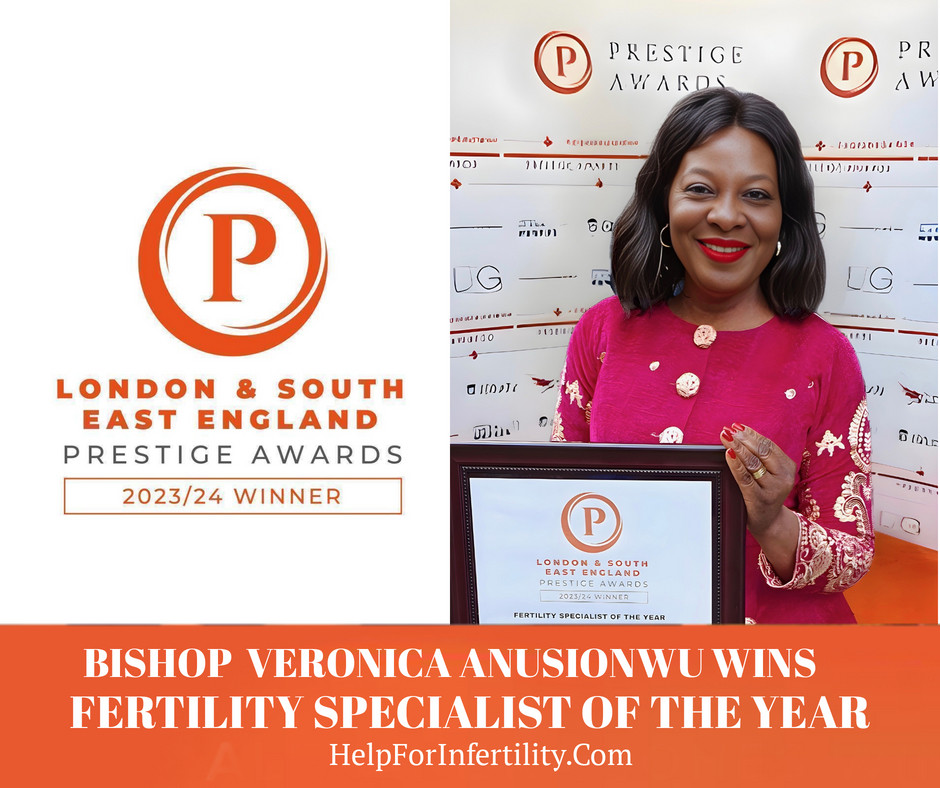 London – Bishop Veronica Anusionwu has won the Prestige Award for fertility specialist of the Year for her exceptional work with couples struggling to conceive. In the past few years, she has supported many couples and given them the strength and faith they need to overcome fertility challenges, enabling them to have healthy babies. With Over 500 recorded testimonies. Her dedication and passion have resulted in countless joyous moments for families and have earned her the recognition she deserves. On her website and social media platforms, she offers expert help with fertility issues and miscarriages.
Veronica shows how to handle these troubles with spiritual solutions. She looks to the Creator of all life for answers to problems. She offers pregnancy prayers and encouraging words for those needing reassurance and increased faith. The prayers she offers for couples are particularly inspiring. She explains how to use God's Word to overcome infertility problems and miscarriages.
"God's Word has no limits", she says and teaches women and couples how to apply the Word of God to their circumstance to gain a more profound faith to receive God's blessings and to conceive. Veronica says, "There is no threshold to God's power. In my practice for over 25 years, I have witnessed the birth of hundreds of babies born to women struggling to conceive."
God has anointed me to teach women how to bring their children into the world through Him. I have dedicated my entire life to helping women achieve their goals of having children and building healthy and happy families. By listening to my teaching and coaching, you will learn to be open to God and blessed with your baby very quickly.
"Veronica's work shows her love for God, His Word, and scripture knowledge. It is evident that she also loves people and truly wants to help them. Her passion for her work shines through, as seen in the countless testimonies on her website and social platforms. She reveals how to gain faith and healing through prayer.
There is heartfelt encouragement for those struggling to have a baby. She gives scriptural references to fertility issues, leading people to deepen their faith in the Lord." Her words bring hope and strength to couples and individuals, helping them trust the Lord's plan for their fertility.
Veronica has been researching for over 25 years and has authored more than 50 books on fertility, healing, childbirth and relationships. She has created masterclasses that bring joy; these books and materials have comforted and helped many people.
In a recent interview with Jack Cranfield, an American co-author of Chicken Soup for the Soul, which has more than 250 titles and 500 million copies in print, He said, "Veronica's work with women struggling to conceive is an amazing work. I wish her much success and pray that many women will come to know about her work with families going through this pain."
Veronica helps women overcome the internal blocks and seemingly impossible challenges confronting them in their struggle to conceive. With healing prayers, she has helped numerous families crush infertility. Most of the couples she has coached are happy parents today; their testimonials can be found at www.lwhhealingcentre.com.
Media Contact
Company Name: Lords Word on Healing Publications
Contact Person: Veronica Anusionwu
Email: Send Email
Phone: +44 (0) 947813819
City: London
Country: United Kingdom
Website: www.lwhhealingcentre.com