Hello Jolie Brings To Limelight a Lasting Solution to the Problem of Bringing Heavy Car Seats with the Release of Its Car Seat Travel Bag with four Wheels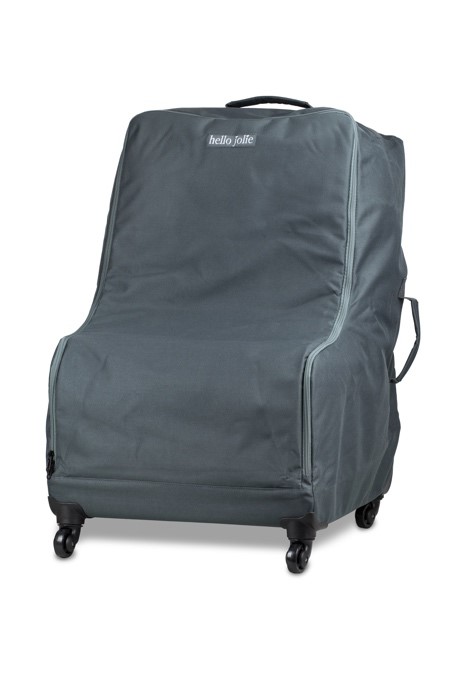 Leading provider of innovative travel accessories, Hello Jolie, announces the release of its Car Seat Travel Bag with 4 Wheels that make traveling with car seats easy
IRVINE, CA – September 17, 2019 – Traveling with babies and toddlers could require traveling with their car seats. Millions of parents struggle to find solutions that make this easy. Hello Jolie releases its car seat travel bag to help parents bring along those car seats with ease. A product designed to impress, Hello Jolie's car seat travel bag has four spinner wheels to easily roll the car seat to and through the airport. Parents have responded by saying they could not have traveled without it and have given this amazing product five-star rating because of this clear-cut lasting impression.
"Every time we bought a bag with backpack straps, it broke, and it was difficult to carry on our backs. Other car seat bags with wheels were too small for our car seats or couldn't bear the weight of it," commented a spokesperson from Hello Jolie. "We spent over a year designing our bag based off of what we didn't like about the bags that were currently in the market. We thought of every detail and feel we've perfected it."
The car seat travel bag is a high-end quality bag designed to fit all major car seat brands. Well, that is not all, it was made with durable water-resistant nylon and has padding all around to protect the car seat and keep it clean from dirt, germs, rain, and snow. This innovative product was tastefully designed in three exterior color variations – black, gray, and navy, all with a complimentary gray interior, to meet the taste of every family. A fun fact is that when not in use, it collapses down for easy storage.
As a bonus, Hello Jolie is including a free Add-A-Bag luggage strap in order to keep parents' hands-free so they can focus on carrying their kids and other luggage.
Hello Jolie's car seat travel bag can be ordered on both hellojolie.com and amazon.com.
For more information, be sure to visit https://hellojolie.com.
About Hello Jolie
Hello Jolie is Jolie's Mom. Jolie came into the world in November 2017 and was instantly loved by her big brother, dad, and of course Jolie. But, traveling with two kids instead of one was ten times harder and almost impossible. Jolie and her family always had to carry two sets of car seats, two strollers, the kids' luggage, their luggage, and four carry-on bags! The family needed products that would make their travels a little easier. Though they found good products, they did not find AMAZING products. Therefore, they embarked on a journey of coming up with their own amazing design. After using their own products, traveling with two kids was ten times easier!
Media Contact
Company Name: HelloJolie
Contact Person: Amity Tong
Email: Send Email
City: Irvine
State: CA
Country: United States
Website: https://hellojolie.com/