Getting up close with Lisa Larian, "Designer of the Week" and talking about BUJII
Having a mother who owned a boutique was probably the sole reason why Lisa Larian became such a world renowned designer. She loved watching her mother work at the boutique for hours, playing with different designs, cuts & colours and soon she became the favorite stylist of all her customers. But that's not all, she also studied fashion quite closely throughout her childhood, trying to predict the upcoming styles and trends of the industry.
It is during her research, that she realized that none of these trends were random. Almost all of them were a part of a massive plan that has been well thought and executed by the top designers, who aim to make the people feel gorgeous at every step of their life, wearing clothes that boost their confidence. Once she realized the hidden motivation behind every design crafted by the top designers, she knew what she wanted to become. Years later with the grand launch of BUJII she hopes to inspire millions of women out there and make sure that they feel happy, confident and bold wearing the beautiful BUJII suspenders.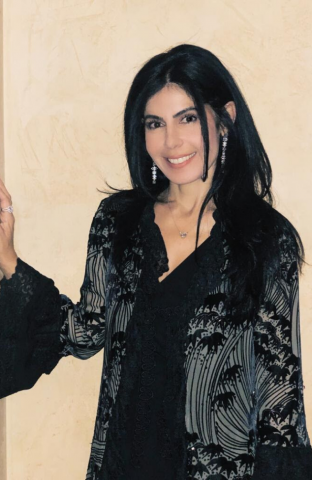 In a recent interview, she got quite candid about her childhood and life in the industry. Let's take a peek into the interview.
When did you realize you had this brilliant gift?
Contrary to popular belief, I always thought fashion isn't something that you are born with. It's more like a taste that you acquire over time. It's a skill that you master through tons of research and work. Throughout all these years, I worked hard to develop my skills to become a fashion designer one day. Right at high school, I knew what I wanted to become in the future and opted for the fashion design classes. Later I enrolled at the Fashion Institute of Design and Merchandising, where I further developed my passion and love for designing various pieces of clothing. But the structured environment of college limited my creativity, so I started studying more about the trends of the industry after graduating from FIDM. This in-depth research combined with my hard work for years, made me the talented and much loved designer that I am today. So it wasn't much of a gift, rather a journey that I started as a kid.
Where do you pull your inspiration from?
From the first time I have felt mesmerized by the fashion industry, there were certain designers who never failed to impress me. Some of those remarkable brands are, Channel, Prada, Valentino, MiuMiu, Zimmerman, and Oscar de la Renta. They didn't just amaze me as a kid, even today, so many of my designs are inspired from their legendary works. When it comes to taking inspiration from other brands, I choose to follow their fabric and clothing materials, instead of their cuts and designs. Walking into the different fabric stores, visualizing my clothing and getting rid of all restrictions on my designs has helped me to design such gorgeous suspenders for BUJII. The first ever suspender I designed for BUJII was inspired by the fabric of my scarf, and it went on to be one of my most celebrated designs till date!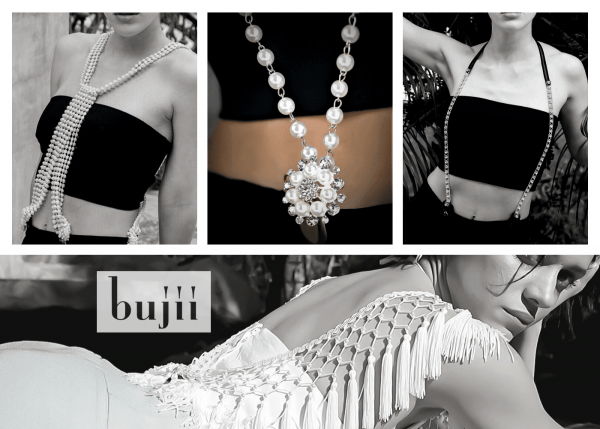 What is the vision you had while creating BUJII?
Like I said previously, a lot of my designs are inspired from going inhibition-free, to bring out the bold and wild side of people. So, with BUJII I plan on creating something that will bring on this transformation in people almost instantly, without much hassles. The vision is to create a world where people won't need fitting rooms to change their attire. All women need is a suspender in their bag, and put it on their 9-5 work-day attire and bang! The party mode is on. In the near future, the plan is to add more variety of suspenders for the beautiful women out there, along with a subscription plan where customers can avail monthly BUJII gift packages.
What do you think, has made BUJII stand out in this over- crowded industry?
BUJII is the first designer clothing brand to bring a wide range of fashionable suspenders to women worldwide.
What is next for BUJII?
In the future, BUJII plans on bringing stunning suspenders that are accustomed to numerous trends. There are two new visions for suspenders, as of now. I hope to create a gorgeous range of suspenders made from sequence and another line of suspenders made from feathers. These unique designs are bound to make bold statements in anyone's wardrobe.
Get your hands on the brilliant suspenders handcrafted and designed by Lisa Larian and her team at http://www.BUJIIcollection.com/
Media Contact

Name: Lisa Larian
Company: Bujii Collection
Email: [email protected]
Website: http://www.bujiicollection.com/
Media Contact
Company Name: Bujii Collection
Contact Person: Lisa Larian
Email: Send Email
Country: United States
Website: http://www.bujiicollection.com/