Customer Feedback Indicates That MINGDA Magician X One-Touch Smart Auto-leveling 3D Printer May Dominate the Market Soon
MINGDA company has become a leader in the 3D printer since 2009 through its professional industrial 3D printers. Recently, MINGDA has announced it new customer 3D printer, Magician X One-Touch Smart Auto-leveling 3D Printer, and the business claims the new model will take over a big market share in near future.
Video Link: https://www.youtube.com/embed/kZiuvnwQdCw
There are many 3D printers manufacturers in the market, but few have strong power in R&D in 3D printing technology in terms of hardware and software. MINGDA has recently shown its brand new models at the 2021 Guangzhou International Electronics Show and TCT Asia Show. The feedback from potential buyers from these two shows are great and many people show their interest in this new model.
The company's sales director said, "2021 must be a milestone for 3D printer industry, and more and more companies pay much attention to auto-leveling technology for 3D printers, as leveling is a very important step for many users. Only our Magician X comes with true auto leveling, while other competitors' similar models need actually manual operation more or less."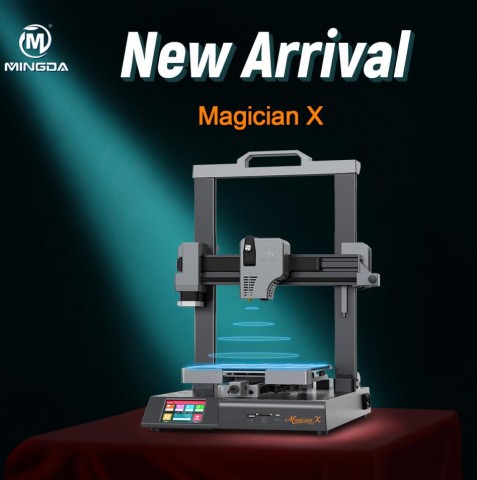 MINGDA Magician X is featured with an integration of TMC2208 silent driver which makes the motherboard featuring silent printing and precise printing control, which also means a more accurate and silent printing. It utilizes a new 3rd Gen. Carborundum Glass Platform, which can resist deformation easily, even in high-temperature environments. Also, the new user interface is easy to use and switches seamlessly among 8 languages like English, French, etc. Magician X offers a higher printing speed (up to 100 mm/s) than conventional 3D printers of the same quality.
About MINGDA
MINGDA, a well-known 3D printing company, has been specializing in the OEM & ODM of 3D printers since 2009. The business owns two series of DIY and whole professional machines, fully meeting the needs of different users, and its products are exported to more than 180 countries.
Visit for more: https://www.3dmingda.com/
Media Contact
Company Name: Mingda 3D Printer
Contact Person: Mr. Sam
Email: Send Email
Phone: +86-13530306290
Country: China
Website: https://www.3dmingdaofficial.com/