Ischemic Stroke Market to Exhibit Remarkable Growth During the Forecast Period (2019-2032) | Key Companies – Stemedica, Pharmazz, GNT Pharma, BMS/Janssen (milvexian), Pharmazz (Sovateltide), Athersys
The dynamics of the Ischemic Stroke market are anticipated to change in the coming years, owing to the improvement in the diagnosis methodologies, rising awareness of the diseases, incremental healthcare spending across the world, and the expected launch of emerging therapies. Companies across the globe are working towards the development of new treatment therapies for Ischemic Stroke.
To re-address the current issues, the companies are currently shifting their focus toward this indication to meet the needs of the current market. Some of the key companies in the market include Athersys, Abbvie, Bristol-Myers Squibb, Lumosa Therapeutics, Acticor Biotech, and others. Several of the pipeline drugs are in late-stage clinical development and are designed to address this long-standing unmet need in ischemic stroke. The late-stage pipeline agents and one stem cell therapy (MultiStem) aim at improving clinical outcomes post-stroke when given in the acute phase of stroke. Additionally, substantive advances have been made in the acute management of ischemic stroke. Recent trials demonstrating the benefit of endovascular therapy have brought a new era in the treatment of stroke.
DelveInsight's "Ischemic Stroke Market Insights, Epidemiology, and Market Forecast 2032" report delivers an in-depth understanding of the disease, historical and forecasted epidemiology, as well as the Ischemic Stroke market size, share, trends, and growth opportunities in the seven major markets (7MM) (i.e., the United States, EU4 (Germany, Spain, Italy, France), the United Kingdom and Japan).
The Ischemic Stroke market report covers emerging drugs, current treatment practices, market share of individual therapies, and current & forecasted market size from 2019 to 2032. It also evaluates the current treatment practice/algorithm, key drivers & barriers impacting the market growth, and unmet medical needs to curate the best of the opportunities and assess the underlying potential of the market.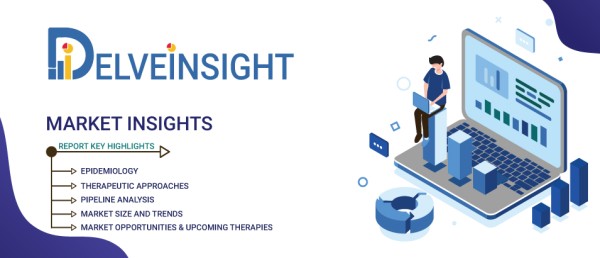 Ischemic Stroke: An Overview
Ischemic Stroke (IS) occurs when blood flow through a brain artery is blocked by a clot- a mass of thickened blood. Clots are either thrombotic or embolic, depending on where they develop within the body. A thrombotic stroke, more common of the two, occurs when a clot forms within an artery in the brain. An embolic stroke occurs when a clot or small piece of plaque (fatty deposit) breaks off from elsewhere in the body, such as the heart, and travels through the bloodstream only to become stuck in a narrower vessel in the brain.
Almost half of all ischemic strokes are due to large vessel occlusion (LVO). An LVO is the most severe and debilitating type of stroke, as the clot occludes major arteries and prevents blood flow to significant portions of the brain. Ischemic stroke is also more common in people who have a family history of stroke or who've had past strokes. Men are more likely than women to have ischemic stroke, while blacks have a higher risk than other races or ethnic groups. Risk also increases with age.
Ischemic Stroke Market Key Facts
According to the World Health Organization (WHO), an estimated 15 million individuals worldwide suffer from stroke each year. Of these, 5 million die, and another 5 million are left permanently disabled.

As per the study conducted by Edward C Jauch et al. 2019, nearly 800,000+ people suffer from strokes each year in the United States, and 82–92% of these strokes are ischemic. Stroke is the fifth leading cause of adult death and disability.

As per the Stroke Association of UK 2018, up to 25% of Ischemic childhood strokes are linked to congenital heart disease.

As per Luciana Catanese et al. 2017, the incidence of Acute Ischemic Stroke is greater among women beginning with an increased risk in the perimenopausal period and continuing into older age groups.

As per American Stroke Association, about 87% of all strokes are ischemic strokes, in which blood flow to the brain is blocked.

Increased awareness regarding early manifestations of stroke and its causes is anticipated to positively influence market development over the forecast period. Implementation of smoking cessation by the government and other such initiatives are anticipated to boost demand for stroke diagnostics in the near future.

In July 2022, ACTICOR BIOTECH announced that it had received "PRIority Medicines" status from the European Medicines Agency (EMA) for its drug candidate, glenzocimab, for the treatment of patients with stroke. This status allowed Acticor Biotech to strengthen interactions and obtain early dialogues with regulatory authorities in order to confirm the clinical development plan for glenzocimab in the treatment of stroke.

In July 2022, NervGen Pharma announced the University of Cincinnati and Case Western Reserve University (CWRU) had published a pioneering preclinical study in the peer-reviewed scientific journal Cell Reports demonstrating that NervGen's proprietary drug, NVG-291-R, promotes nervous system repair and significant functional recovery in a mouse model of severe ischemic stroke, even when treatment was initiated up to 7 days after onset.
The market outlook section of the report helps to build a detailed comprehension of the historical, current, and forecasted Ischemic Stroke market size by analyzing the impact of current and emerging pipeline therapies. It also provides a thorough assessment of the market drivers & barriers, unmet needs, and emerging technologies set to impact the market dynamics.
The report gives complete detail of the Ischemic Stroke market trend for each marketed drug and mid & late-stage pipeline therapies by evaluating their impact based on the annual cost of therapy, their Mechanism of Action (MOA), Route of Administration (ROA), molecule types, competition with other therapies, brand value, and their impact on the market.
Ischemic Stroke Epidemiology Assessment
The epidemiology section provides insights into the historical, current, and forecasted epidemiology trends in the seven major countries (7MM) from 2019 to 2032. It helps to recognize the causes of current and forecasted epidemiology trends by exploring numerous studies and research. The epidemiology section also provides a detailed analysis of diagnosed and prevalent patient pool, future trends, and views of key opinion leaders.
The Report Covers the Ischemic Stroke Epidemiology Segmented by –
Total Prevalent Cases of Ischemic Stroke (IS) in the 7MM (2019-32)

Diagnosed and Treatable Cases of Ischemic Stroke (IS) in the 7MM (2019-32)

Age-specific Prevalent Cases of Ischemic Stroke (IS) in the 7MM (2019-32)

Gender-specific Prevalent Cases of Ischemic Stroke (IS) in the 7MM (2019-32)
Ischemic Stroke Drugs Uptake and Pipeline Development Activities
The drug uptake section focuses on the rate of uptake of the potential drugs recently launched in the Ischemic Stroke market or expected to be launched during the study period. The analysis covers the Ischemic Stroke market uptake by drugs, patient uptake by therapies, and sales of each drug. Moreover, the therapeutics assessment section helps understand the drugs with the most rapid uptake and the reasons behind the maximal use of the drugs. Additionally, it compares the drugs based on market share.
The report also covers the Ischemic Stroke pipeline development activities. It provides valuable insights about different therapeutic candidates in various stages and the key companies involved in developing targeted therapeutics. It also analyses recent developments such as collaborations, acquisitions, mergers, licensing patent details, and other information for emerging therapies.
Learn How the Ischemic Stroke Market Will Evolve and Grow by 2032 @
https://www.delveinsight.com/sample-request/ischemic-stroke-market
Ischemic Stroke Therapeutics Analysis
Several major pharma and biotech giants are developing therapies for Ischemic Stroke. Currently, Athersys, Inc. is leading the therapeutics market with its Ischemic Stroke drug candidates in the most advanced stage of clinical development.
The Leading Companies in the Ischemic Stroke Therapeutics Market Include:
Athersys, Inc., Tarveda Therapeutics, Lumosa Therapeutics, Teijin Pharma Limited, NC Medial Research Inc, Acticor Biotech, Meridigen Biotech Co., Ltd., GrandPharma (China) Co., Ltd., Suzhou Yabao Pharmaceutical R&D Co., Ltd., Prolong Pharmaceuticals, Nanjing Yoko Biomedical Co., Ltd, TrueBinding, Inc., GNT Pharma, Roche, DiaMedica Therapeutics Inc, aptaTargets, Bristol-Myers Squibb, NuvOX Pharma, Guangzhou Recomgen Biotech Co., Ltd., Jiangsu Simcere Pharmaceutical Co., Ltd., Genentech, Inc., Ever Supreme Bio Technology Co., Ltd., NoNO Inc., Pharming Technologies B.V., Biogen, Acticor Biotech, Avilex Pharma, SanBio, ZZ Biotech, Shin Poong Pharmaceutical, Prolong Pharmaceuticals, Revalesio, Stemedica Cell Technologies, StemCyte, Ninnion, Algernon Pharmaceuticals, and many others.
Ischemic Stroke Therapies Covered in the Report Include:
MultiStem: Athersys, Inc.

LT3001: Lumosa Therapeutics

Elezanumab: Tarveda Therapeutics

RNS60: Revalesio Corporation

BMS-986177: Bristol-Myers Squibb

Elezanumab: AbbVie

Glenzocimab: Acticor Biotech
And Many More
The Report Covers the In-depth Assessment of the Emerging Drugs & Key Companies. Download the Sample Report to Learn More @
https://www.delveinsight.com/sample-request/ischemic-stroke-market
Table of Content (TOC)
1. Key Insights
2. Executive Summary
3. Ischemic Stroke Competitive Intelligence Analysis
4. Ischemic Stroke Market Overview at a Glance
5. Ischemic Stroke Disease Background and Overview
6. Ischemic Stroke Patient Journey
7. Ischemic Stroke Epidemiology and Patient Population (In the US, EU5, and Japan)
8. Ischemic Stroke Treatment Algorithm, Current Treatment, and Medical Practices
9. Ischemic Stroke Unmet Needs
10. Key Endpoints of Ischemic Stroke Treatment
11. Ischemic Stroke Marketed Products
12. Ischemic Stroke Emerging Drugs and Latest Therapeutic Advances
13. Ischemic Stroke Seven Major Market Analysis
14. Attribute Analysis
15. Ischemic Stroke Market Outlook (In US, EU5, and Japan)
16. Ischemic Stroke Access and Reimbursement Overview
17. KOL Views on the Ischemic Stroke Market
18. Ischemic Stroke Market Drivers
19. Ischemic Stroke Market Barriers
20. Appendix
21. DelveInsight Capabilities
22. Disclaimer
*The Table of Contents (TOC) is not exhaustive; the final content may vary. Refer to the sample report for the complete table of contents.
Download the Sample PDF to Learn More About the Key Offerings of the Report @
https://www.delveinsight.com/sample-request/ischemic-stroke-market
Other Trending Healthcare Reports By DelveInsight
Ischemic Stroke Pipeline Insight
"Ischemic Stroke – Pipeline Insight, 2023," report provides comprehensive insights about 50+ companies and 50+ drugs in the Ischemic Stroke pipeline landscape. It covers the pipeline drug profiles, including clinical and nonclinical stage products by stage, route of administration, and molecule type. It further highlights the inactive pipeline products in this space.
About DelveInsight
DelveInsight is a leading Business Consultant and Market Research Firm focused exclusively on life sciences. It supports pharma companies by providing comprehensive end-to-end solutions to improve their performance.
Media Contact
Company Name: DelveInsight Business Research LLP
Contact Person: Shruti Thakur
Email: Send Email
Phone: 09650213330
Address:304 S. Jones Blvd #2432
City: Las Vegas
State: NV
Country: United States
Website: https://www.delveinsight.com/