Valentine's Day: Experiences or Gifts? CharmDate Dating Experts Weigh In
Valentine's Day 2023 is coming! What's the best idea to spend this romantic holiday? CharmDate experts give out their unique insights!
Every day should be special in a relationship, not only Valentine's Day. However, without making this holiday of love special, couples feel saddened and disconnected, regardless if they are willing to admit it or not. It is a day that brings back all the memories, plans, and romantic feelings. Having someone to share it with is a privilege that should not be neglected.
Since the 14th century when Valentine's day was first celebrated, couples have been preparing for this day weeks or even months prior so they could surprise their loved ones. Sometimes, choosing the right gift seems extremely hard because of the fear of not meeting the expectations of the partner. The truth is that pressure is not a good ally in the gifting process. There is no need to feel pressured to buy expensive gifts in order to impress a romantic partner. The key to a perfect gift is making someone feel loved and there are many ways to do that without spending a fortune.
Long Distance Couples Can Also Have Fun on the Valentine's Day
It is not easy for long distance couples to spend Valentine's Day together. However, when there is a will, there is a way. Users of CharmDate, an international dating website, can be surprisingly creative when it comes to gifting and emotional connection. This platform provides outstanding features that minimize the difficulties of international dating.
CharmDate's experts constantly look for new ways to increase the efficiency of online dating. With advanced options that make this site a comfortable zone for couples, people all around the world can enjoy Valentine's Day fully, without being affected by physical distance.
The Advice of CharmDate's Experts for the Valentine's Day
CharmDate emphasizes the importance of the emotional connection between two people. It takes time and effort to bond with someone living miles away because users cannot know immediately whether they will like someone's personality when they start chatting.
However, CharmDate's specialists make sure to give all the tools to their members to facilitate the matchmaking and dating process. For the romantic holiday, they have unique insights towards international couples – Experience are valuable gifts!
Members who would like to please or surprise their partners can find exceptional gift options on CharmDate.com. They can send virtual presents or even send local gifts to their loved ones via CharmDate and start Valentine's Day in style.
After showing affection through gifts, users can start planning the whole romantic holiday! People can forget material gifts but can never forget great experiences. CharmDate's experts encourage its users to be creative and use all the tools on this platform to make Valentine's Day unforgettable.
Communication Tools on CharmDate to Blossom Love on Valentine's Day
Live Chat
Chatting itself is a unique experience as it slowly builds a bond between romantic partners and allows them to share their day-to-day events. It becomes a habit and a connecting point that couples cannot go a day without. Starting the romantic holiday with nice texts full of emotions, staying connected and keeping a good vibe all day is a way to make someone feel loved, to feel appreciated and accompanied.
CamShare
After a nice morning warmed up with affectionate texts, users of CharmDate can pass to the next level: CamShare. The best way to feel close to a partner that lives far away is to use live camera options available to CharmDate users.
Dating experts suggest long video cams that will make couples feel included in each other's lives. Talking with CamShare builds closeness and trust.
Creating a romantic atmosphere and cooking the same dishes for a Valentine's Day is an ideal way to finish off this romantic occasion and it will stay in the dearest memories of both partners. The date should be eventful and fun so CharmDate recommends full focus, without distractions. A movie night, listening to romantic songs, and playing games can circle the day as successful.
About CharmDate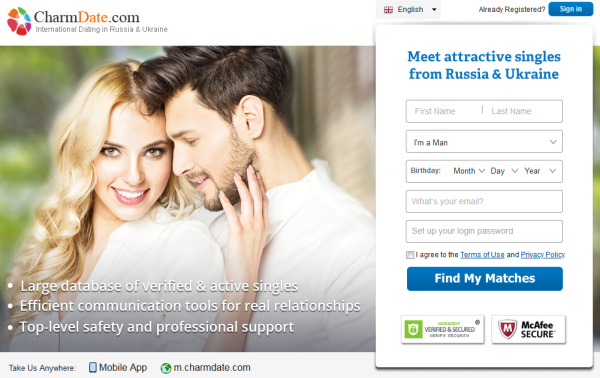 CharmDate.com is an international dating site which connects singles from every corner of the world. Its mission is to provide members with a safe, easy-to-use and professional platform, and effective services including EMF Mail, Live Chat, Call, Camshare, Gifts&Flowers, etc.
CharmDate works on multiple end devices. Apart from PC and m-site, members can also download the app from Google Play Store. Dating on the go brings users a fantastic and very different experience!
Media Contact
Company Name: CharmDate
Contact Person: Media Relations
Email: Send Email
Country: HongKong
Website: http://www.charmdate.com