Hangzhou Safari Park welcomes adorable new addition: Baby white rhino
The baby white rhino at Hangzhou Safari Park. [Photo/hangzhou.com.cn]
Visitors to the Hangzhou Safari Park might have the opportunity to meet a new baby rhino, after a rhino named "Nana" gave birth on Feb 16 after a 508-day gestation period, local media outlets reported.
The baby rhino, the third calf and the first female white rhino bred at the wildlife park, weighed more than 100 pounds upon birth.
She is lively and curious, often running off on her own when her mother is not looking. However, the mother rhino always puts her baby's safety first, accompanying her on walks and teaching her new skills and even abandoning her food to run after the playful calf.
The baby rhino knows how to charm visitors. She is always eager to explore new things and has an endearing habit of perking up her two ears to listen to everything around her. When she's hungry, she emits a soft and adorable "yiyi" sound that melts everyone's heart.
With the arrival of spring, now is the perfect time to visit Hangzhou Safari Park and meet the newest addition to the animal family – this sweet and charming baby white rhino.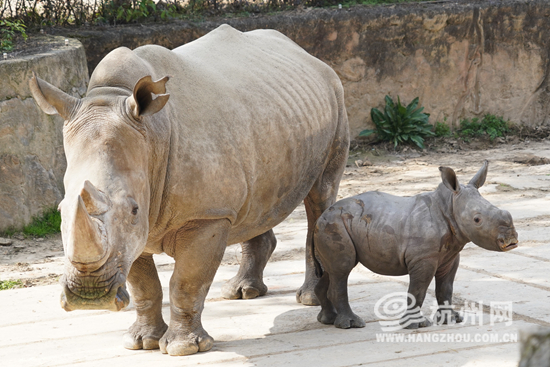 The caring mother rhino Nana is always by the side of her newborn daughter. [Photo/hangzhou.com.cn]
Media Contact
Company Name: The Information Office of Hangzhou Municipal Government
Contact Person: Cai Jingwen
Email: Send Email
Phone: 0510-68559077
Country: China
Website: http://www.ehangzhou.gov.cn/