SJF Material Handling in Winsted, MN Adds Noblelift Products to Online Store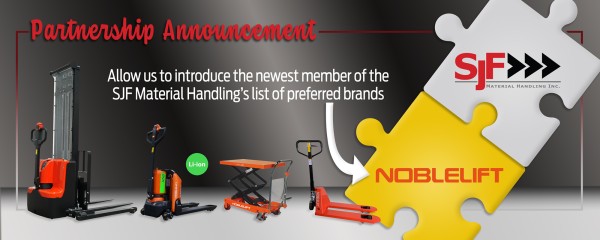 Winsted, MN – SJF Material Handling, a leading provider of new and pre-owned material handling equipment, is pleased to announce the addition of the Noblelift product line to its online store. With this new partnership, SJF Material Handling will now offer a wider selection of high-quality material handling products to its customers.
The Noblelift product line includes a variety of equipment, including electric pallet jacks, manual pallet jacks, electric stackers, and scissor lift tables. These products are known for their durability, reliability, and ease of use, making them an ideal choice for warehouses and distribution centers of all sizes.
"We are excited to offer the Noblelift product line to our customers," said Frank Sterner, President of SJF Material Handling. "Their products are top-notch and will be a great addition to our inventory. We are confident that our customers will appreciate the quality and value that Noblelift products provide."
With this new addition, SJF Material Handling's online store will now offer an even wider range of new material handling equipment, which currently includes pallet racking, cantilever racking, conveyor systems, cardboard balers, and more. In addition to its online store, SJF Material Handling also offers pre-owned equipment for sale, such as used pallet racking, cantilever racking, gravity conveyor and electric conveyor systems, carousel systems, and more.
To learn more about SJF Material Handling's new Noblelift product line or to place an order, visit their online store at https://shop.sjf.com or call (320) 485-4972 to speak with one of their knowledgeable representatives.
Media Contact
Company Name: Shop.sjf.com
Contact Person: Frank Sterner – SJF Material Handling President
Email: Send Email
Phone: (320) 485-4974
Country: United States
Website: https://shop.sjf.com